What kind of pest problem are you having? Select all that apply.
Pest Control in Winnie, TX
Winnie is a small community located in Southeast Texas and provides easy access to our area's larger cities which offer plenty of eclectic entertainment and culture. It is also close to the Gulf Coast, provides a low cost of living, and is home to some great people. Another great benefit to living in Winnie is that your home or business can be protected from the pests, which also call Chambers County home, with the help of Bill Clark Pest Control. Since 1957 we have been solving pest problems throughout Beaumont. We are proud to say that we are the area's largest and most dependable pest control company. Contact Bill Clark Pest Control today to learn more about working together to keep pests out of your Winnie residential or commercial property. 
Sign up for One Of Our Packages
Bill Clark Pest Control is dedicated to helping homeowners prevent and eliminate problems with common household pests. Spiders, scorpions, ants, silverfish, rodents, and more can all be kept away from your home and family with the help of Bill Clark Pest Control.
 
Listed below is a quick overview of our quarterly pest packages.
Quarterly Package Plan - offers general pest control against more than 13 pests.

Quarterly Package PLUS Fire Ants OR Rodents - offers general pest control plus control against lawn fire ants OR rodents.

Quarterly Package PLUS Lawn Fire Ants AND Rodents - offers general pest control plus control against lawn fire ant AND rodents.
In addition to our quarterly plans, we also have available our Pest Stop Plan. It is a one-time treatment option that targets a specific pest problem. It provides a complete pest clean-out and a 30-day warranty for specified pests. 
 
To discover which of our quality pest control solutions is the best fit for your home, family, and budget, give Bill Clark Pest Control a call today. 
Image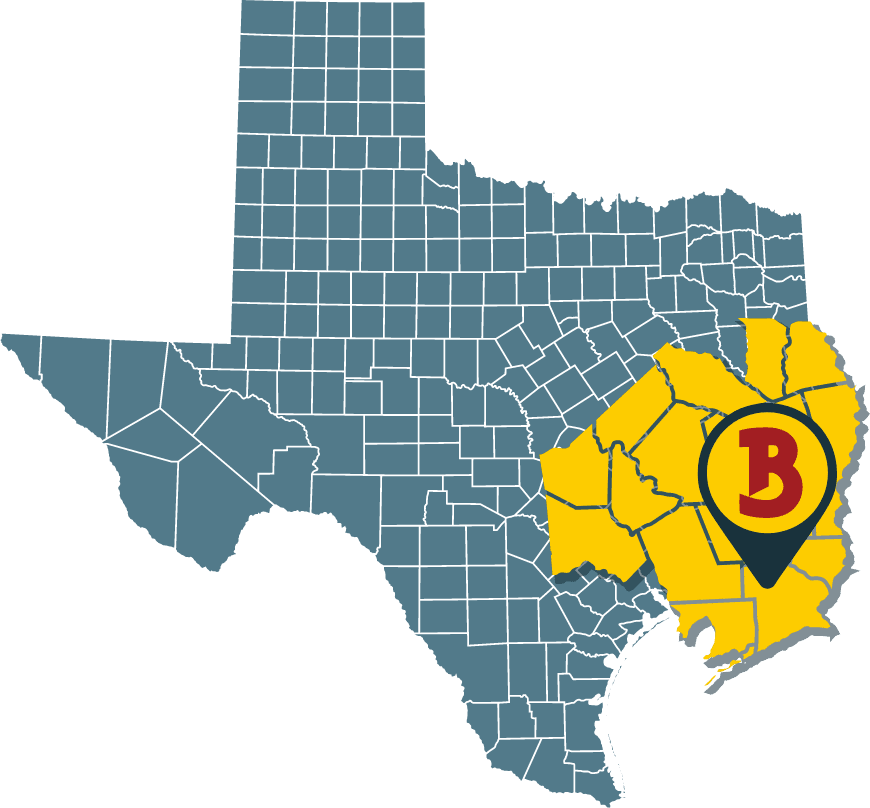 Black Widow Spider Control in Winnie
Like all spiders, black widows possess venom. What makes a black widow spider so dangerous is that its venom is much more potent than other common household invading spiders. Black widow spiders will use their poison to subdue caterpillars, scorpions, beetles, and other insects, but they are also known for taking down much larger prey. Black widow spiders will prey upon mice, lizards, and snakes.
 
While people are much larger than a mouse or lizard, the venom from a black widow spider is still strong enough to cause us health problems. While a fatality is rare, a bite from a black widow spider affects our nervous system and can cause the following symptoms: pain at the bite site, muscle aches, fever, chills, vomiting, and headaches. If bitten by a black widow spider, you should seek medical attention so your symptoms can be managed appropriately.
 
Black widow spiders are shy and reclusive, and bites to people usually only occur accidentally or if they are directly handled (never recommend). If you ever find black widow spiders on your property, immediately contact Bill Clark Pest Control. Our experts can provide the services needed to remove them from your home or property safely. To learn more about our black widow spider control service, contact us today. 
Commercial Pest Control In Winnie
Guard your commercial facility and your business's reputation from pests with the help of Bill Clark Pest Control. We are a locally owned and operated company and understand the pest pressures that business owners in Southeast Texas come up against throughout the year. We know that each business we serve has its pest problems, and we will customize our services to meet your company's unique pest control needs.
 
We have a dedicated industrial pest control division with almost 70 "bugsperts" on staff who are committed to the commercial pest control industry and who provide top-notch services. Our professionals always begin by completing a thorough interior and exterior inspection. They then take the information gathered from the review to create a customized pest management plan and determine the frequency of service. For more information about protecting your Winnie commercial facility from invasive pests, reach out to us today.
Termite Control in Winnie
Termites are a year-round threat to property owners living in Southeast Texas. To combat wood-destroying termites and protect homes from significant structural damage Bill Clark Pest Control offers advanced termite treatments. We can quickly eliminate an existing infestation and prevent future infestations.
 
Our termite treatment solutions begin with a free interior and exterior termite inspection. We then recommend a customized treatment plan and offer a one-year termite re-treatment warranty. Our termite solutions include the installation of the Sentricon® Termite Colony Elimination System, or the application of Termidor®, a liquid termite treatment. Our two treatment options work in different ways but are both highly effective in eliminating and controlling termites. To schedule an inspection of your home or to learn about our solutions to termites, give Bill Clark Pest Control a call today. 
Rodent Control in Winnie
Not a fan of rodents? Neither are we! Which is why we've dedicated our time to helping you get rid of them for good. More often than not, they put your health at risk, contaminate your food, and are just bad news for your home. When you have an infestation, our rodent exterminators work closely with you to come up with a fool-proof plan. When rats and mice strike, we'll be there in an instant to protect your family from the aftermath. 
During our visit to your Winnie home, we will: 
Conduct a detailed home inspection.

Draft up an individualized treatment plan that is unique to your situation.

Keep you covered with ongoing visits as preventative maintenance. 

Use only family-friendly products. 

Ensure that you are 100% satisfied

.
Get started today with a FREE inspection 
Our Mission
At Bill Clark Pest Control, our main goal is to protect you, your pets, and your property. When our rodent control experts visit and treat your home, you'll receive nothing less than exemplary customer service and results. Since 1957, we've lived up to this mission, and we don't plan on stopping any time soon. If you're in the market for the best of the best rodent control, your search ends here!