What kind of pest problem are you having? Select all that apply.
Pest Control in Vidor
Don't allow the pests that live throughout Southeast Texas to take over your Vidor home or business. Protect your family and property from pests with the help of the local pest control expert, Bill Clark Pest Control. Since 1957 we have been keeping pests out of residential and commercial properties. A wide range of insects and rodents can be controlled and eliminated with the help of our trained professionals and modern pest control programs. To learn more about protecting your Vidor residential or commercial property from pests, reach out to us today.
Claim Your Pest-Free Home Today
At Bill Clark Pest Control, we have worked hard to develop home pest control programs that meet the unique needs of Southeast, Texas homeowners. Our programs work to control common household pests such as ants, roaches, spiders, earwigs, mosquitoes, bed bugs, and more. Our wide variety of pest control service plans include monthly, quarterly, or as-needed services to meet any homeowner's pest control needs. We can work together to keep pests out of your home throughout the entire year with help from our experienced professionals and comprehensive or targeted pest control treatments. To learn more about keeping pests out of your Vidor home, contact the "Bugsperts" at Bill Clark Pest Control today. We offer pest control in Beaumont and its surrounding areas.
Image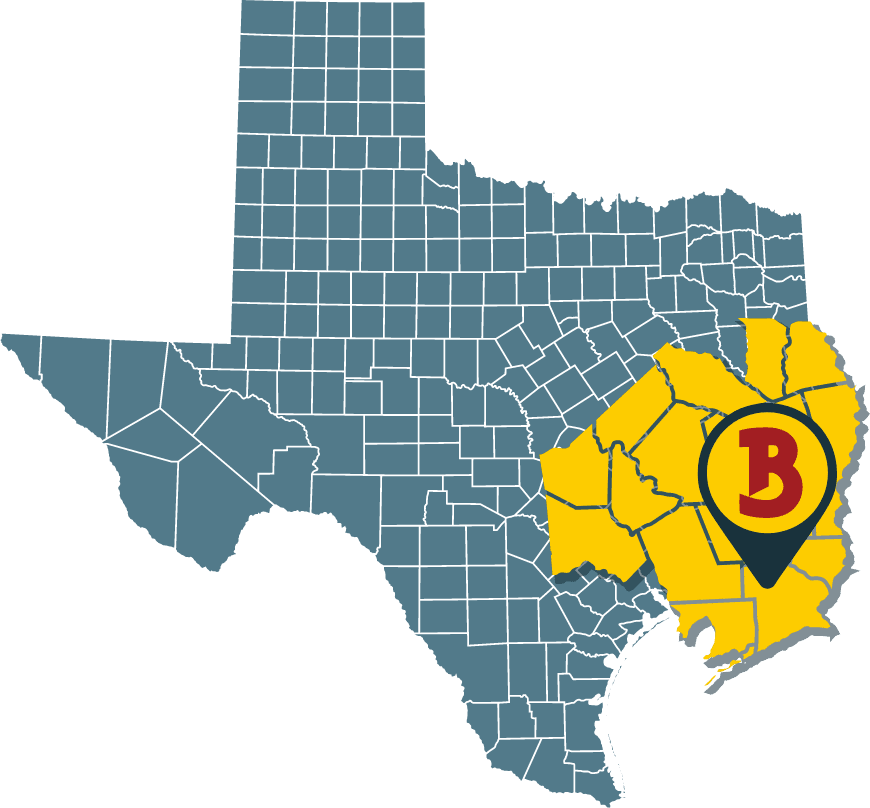 Carpenter Bee Control in Vidor
Carpenter bees are a solitary species. They create individual nests by creating a hole the size of their body in a piece of wood and tunneling through it. Common nesting spots include fences, decks, porches, roof soffits, wooden play structures, and wood siding or shingles. Carpenter bees prefer wood that is weathered and unpainted or stained. This nesting habit might not seem significant, but the damage they can create can become significant because of the following:
Carpenter bees create individual nests, but many females may choose the same piece of wood or general area to nest in.

Carpenter bees prefer to nest inside already established carpenter bee nests, tunneling deeper and creating more damage to the wooden structure each year.

Woodpeckers love carpenter bee larvae. They will peck at the entrance of a nest to gain access to the larvae. This creates even more damage to the structure the nest has been created in.
If you notice carpenter bee nests on your Vidor property, contact Bill Clark Pest Control. We can provide fast, effective service to eliminate infestation. To learn more about our carpenter bee control services, give us a call today.  
Commercial Pest Control in Vidor
Insects and rodents can cause a lot of problems for business owners when they decide to take up residence inside commercial facilities. They cause structural damage, contaminate food, introduce disease and bacteria to employees and customers, damage equipment and inventory, and destroy your Vidor business's reputation. To protect your commercial facility and reputation from pests, turn to the experts with over 6 decades of pest control experience, Bill Clark Pest Control.
To solve your commercial facilities pest problems once and for all and to maintain your reputation, we offer comprehensive, customized pest control services. To learn more about our tailored and targeted commercial pest control services, reach out to us today!
Bed Bug Treatment in Vidor
Bed bugs are invasive pests that are, unfortunately, found across the United States in large numbers. They live wherever there are people, meaning you could come into contact with them during your travels, while at school or work, or while out and about running daily errands. To help you avoid bed bugs we offer the following tips:
Know what bed bugs look like and be aware of your surroundings when in public places.

Never leave personal belongings on the floor of public places.

Before bringing luggage into a rental, inspect it for bed bugs or signs of bed bugs.

Keep your personal belongings away from other people while at work or in school.

After returning home from vacation, wash and dry all clothing on the highest heat setting the fabrics can handle.

Wash and dry all newly purchased clothing on a high-heat setting, if possible.

Do not purchase used furniture, mattresses, or box springs.
If bed bugs do find their way into your home, it is important to immediately seek professional assistance. By partnering with a professional, you can ensure that all the bed bugs in your home will be found and eliminated. Reach out to Bill Clark Pest Control today to learn more about our bed bug control services!