What kind of pest problem are you having? Select all that apply.
Pest Control in Bridge City, TX
Bridge City is known for being rich in oil, home to friendly people, and beautiful in coastal views. But living in Bridge City also means dealing with pests. With pest control from Bill Clark Pest Control, however, you can be nearly pest-free, year-round! We are locally owned and operated and have become the largest and most trusted pest control company in our region. We are dedicated to protecting residential and commercial properties from the area's toughest pests. To learn more about keeping Texas pests out of your Bridge City home or business, give us a call today.
Get the Best in Residential Pest Control
Bill Clark Pest Control is committed to protecting homes and families from our area's common pests. Ants, spiders, roaches, silverfish, earwigs, and more will have to find somewhere other than your home to live when you partner with us.
We offer a variety of residential pest control packages to meet the pest control needs of Bridge City homeowners. Our most comprehensive package is our Quarterly Package Plan PLUS Fire Ants AND Rodents. This quarterly package offers exterior treatments, interior treatments, and protection against more than 13 common household pests. This package also offers the benefits of lawn fire ant and rodent protection.
 
To get started protecting your Bridge City home from invasive, damaging, and dangerous household pests, give Bill Clark Pest Control a call today.
Image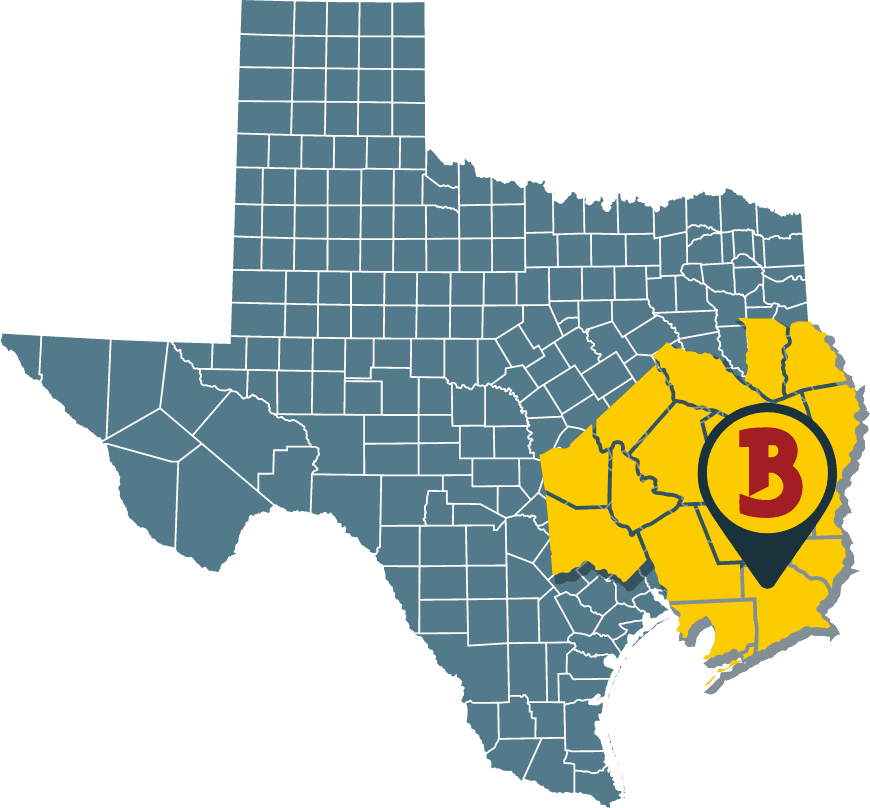 Fire Ant Control In Bridge City
Fire ants are an invasive species that are difficult to control and avoid. Taking steps to discourage these pests from nesting on your property is important. Fire ants are aggressive, they deliver painful stings, and they have venom that is strong enough to cause serious health problems.
Fire ants like to create their nests in open sunny areas, making residential lawns ideal nesting spots for them. To eliminate current problems with fire ants and prevent future infestations, Bill Clark Pest Control offers TopChoice fire ant treatments. Our technicians complete a one-time application of TopChoice. This granular treatment provides a long-term residual effect for superior fire ant control.
 
To learn more about our fire ant control treatments, reach out to Bill Clark Pest Control today.
Commercial Pest Control In Bridge City
Partnering with Bill Clark Pest Control is one of the best things you can do to protect your business from invasive Texas pests. Benefits of choosing us for your commercial pest control needs include:
We are a locally owned and operated company.

We have protected commercial properties from pests since 1957, over 6 decades of experience!

We customize our services to meet each business's unique pest control needs.

We protect a wide variety of businesses from pests: stores, hotels, schools, hospitals, banks, and more.

Warehouses, petrochemical facilities, and more.

We have a dedicated industrial pest control division with almost 70 Bugsperts on staff dedicated to providing customized commercial pest control services.
To begin protecting your property from pests with the help of the best, contact Bill Clark Pest Control today and learn more about our commercial pest control services.
Termite Control in Bridge City
Southeast Texas is an area that is home to dense termite populations. Living in Bridge City means it isn't a question of "if" termites will enter your home, but a question of "when?"
The experts at Bill Clark Pest Control are dedicated to providing effective termite control, which includes:
A free termite inspection (interior and exterior).

The recommendation of customized termite treatment.

The elimination of termites through one of our effective termite control options.

Termite control options include the installation of the Sentricon® Termite Colony Elimination System or the application of Termidor®, a liquid termite treatment.

A one-year termite re-treatment warranty where applicable.
To begin guarding your property against damaging termites, give the experts at Bill Clark Pest Control a call today!
Bed Bug Exterminator in Bridge City
Take back your rest and get rid of those bloodsucking bed bugs with our top-notch bed bug control service in Bridge City! At Bill Clark Pest Control, we understand the value of a quality night's sleep, which is why we are here to help you reclaim your peace of mind. Our experienced bed bug exterminators are ready to tackle these stubborn pests head-on, providing you with a personalized bed bug removal plan tailored to your specific needs.
With our bed bug treatment in Bridge City, you can expect:
A thorough in-home inspection to identify every affected room and ensure no hiding place is left unchecked.
Family-friendly treatments that are safe for you, your loved ones, and your pets, so you can sleep soundly knowing your home is protected.
Assistance in preparing your home for our full-home treatments, ensuring maximum effectiveness in eliminating bed bugs.
Installation of bed bug monitors and mattress covers if necessary, providing an extra layer of protection for your peace of mind.
Follow-up treatments within 14 days to ensure our progress and prevent any bed bug comebacks.
Our 30-Day Warranty 
We offer a 30-day bed bug warranty, which means if those pesky critters dare to return within that window of time, we'll come back and retreat your home for FREE. Your satisfaction is our top priority, and we won't rest until those bed bugs are completely gone. Contact our team today!
Rodent Exterminator in Bridge City 
Are you tired of dealing with those pesky rodents in Bridge City? We understand your frustration. These sneaky creatures can cause all sorts of havoc in your home, from structural damage to food contamination. It's time to take action and get rid of those rats and mice for good!
When you choose our rodent control service in Bridge City you can expect:
Free rodent inspection: Our expertly-trained exterminators will conduct a thorough inspection of your home to identify any signs of rodent activity.
Exterior rodent baiting: We'll strategically place bait stations around the exterior of your home to lure and eliminate rodents before they can make their way inside.
Interior trapping: If rodents have already found their way indoors, we'll set up traps to catch them and prevent further damage.
Rodent exclusion: We'll implement a comprehensive plan to prevent rodents from entering or re-entering your home.
Recurring or one-time service: Whether you prefer ongoing protection or a one-time solution, we offer flexible service options to meet your specific needs.
Say Goodbye To Rodents For Good
Don't let those nasty critters take over your home any longer. Contact us today for a free inspection and let our local Bugsperts take care of the problem. With our expertise and proven techniques, you can finally enjoy a rodent-free home in Bridge City. Say goodbye to rats and mice and hello to peace of mind.
Mosquito Control in Bridge City
Are you ready to take a stand against those pesky and dangerous mosquitoes and ticks in Bridge City? Look no further than our top-notch mosquito and tick control services! With our expertise and unbeatable methods, you can finally reclaim your outdoor spaces and keep your loved ones safe.
Here's what you can expect when you choose our mosquito and tick service:
A free inspection of your yard to determine the extent of the problem.
Strategically apply larvicides, ensuring mosquitoes have no chance of multiplying.
Specially designed traps lure and capture mosquitoes, significantly reducing their numbers in your yard.
And more!