Effective Pest Control In New Caney, TX
In New Caney, various pest problems can be frustrating, destructive, or downright dangerous. Whether you own a home or business in the New Caney area, local pests will be quite problematic on your property, so prompt, professional care is required. That's why protecting what matters most to you is best done by partnering with a Bill Clark Pest Control professional technician. We have the following reputation in the New Caney area:
4.7/5 stars on Google reviews
Over 60 years of pest control experience
Highly-trained pest technicians
Locally owned and operated care
Call us today to schedule an inspection with one of our highly trained residential or commercial pest control technicians.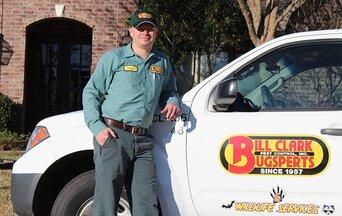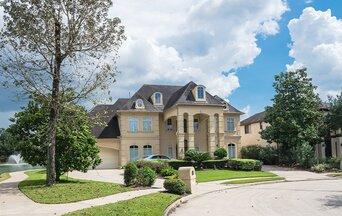 Home Pest Control In New Caney, TX
As a homeowner in the New Caney area, one of the most frustrating things about living in the area is the multitude of dangerous and destructive pests that will plague your property. From termites to rodents, roaches, and more, all local pests require professional care if you really want to get rid of a problem for good.
That's why our Bill Clark Pest Control technicians provide the highest quality home pest control service in the area. We combine the industry's best solutions with an emphasis on customer service that can't be beaten—partner with the local pest pros who understand how to deal with local pests. Call Bill Clark Pest Control today.
Commercial Pest Control In New Caney, TX
Owning a business in a place like New Caney can require you to be very careful about the way you protect your facility from pests. Local pests will threaten your inventory, your reputation, and everyone in your facility. That's why you can't waste time on DIY pest control or store-bought solutions.
Instead, partner with the pros that put your needs above all else. We have a track record of success that you can count on, and we also provide the kind of quality assurances that can get pests off of your property no matter what kind of facility you run. Give us a call today to schedule an inspection with one of our highly trained commercial pest control professionals.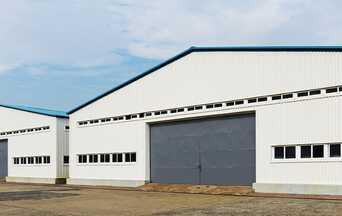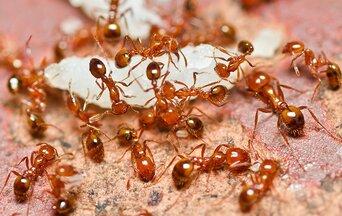 What Makes The Fire Ants In New Caney So Hard To Get Rid Of?
The fire ants in the New Caney area are some of the most difficult pests to control in the entire industry. Unfortunately, they are also some of the most dangerous pests in the area. Because fire ants can emit a painful sting multiple times, a fire ant encounter can lead to anaphylactic shock and other serious medical conditions. So, how can you keep your yard and family safe from these pests?
Once these pests arrive on your property, there is very little you can do about the issue. Fire ants will create a foothold in your yard that is nearly impossible to get rid of with DIY pest control methods or store-bought solutions. However, you can reduce fire ant attraction to your property and limit your chances of incurring a fire ant infestation by practicing the following methods:
Maintaining the lawn regularly.
Keeping the lawn clutter-free
Reducing moisture issues around the property
Storing outdoor food and trash securely
Calling the professionals at the first sign of a problem
If you can get out in front of a fire ant infestation, you can frustrate their desire to build larger colonies on your property. That's why getting prompt; professional fire ant control is the best way to reduce your chances of a long-term problem. As soon as you begin to see fire ants in the yard, reach out to our Bill Clark Pest Control technicians immediately. Give us a call today to schedule a thorough inspection of your property and get rid of your fire ant problems for good.
A Guide To Effective Mosquito Control For Your New Caney Property
If you have mosquito problems on your New Caney property, they can become dangerous quickly. These problems will almost always escalate to the point of threatening your family since mosquitoes are well-known carriers of harmful diseases like dengue fever, West Nile virus, Zika virus, yellow fever, and more. That's why protecting your property from mosquitoes is an important step in creating a safe yard for your family.
Mosquitoes will breed in any amount of standing water on your property above a half-inch deep, so moisture control is your primary concern. After a rainstorm, you should always pour the water out from items like flower pots, birdbaths, wheelbarrows, and more. It's also important to check your gutters for any water collecting because of debris buildup.
If larvae are present in the water, then professional mosquito control is required to break the breeding cycle. These pests will put your family in danger most of the year in a place like New Caney. That's why having your yard professionally treated for mosquitoes is the best way to protect everything that matters most to you. Give us a call today to schedule an inspection with one of our highly trained mosquito experts.