November 22, 2021
Why Do I Have Fleas In My Montgomery Home?
Fleas are parasites that feed on the blood of human and animal hosts. In the Montgomery region of Texas, the most common species is the cat flea, a micro-sized creature that is hard to see with the naked eye. Fleas do not have wings, yet they are equipped with strong rear legs that allow for jumping on a host passing by.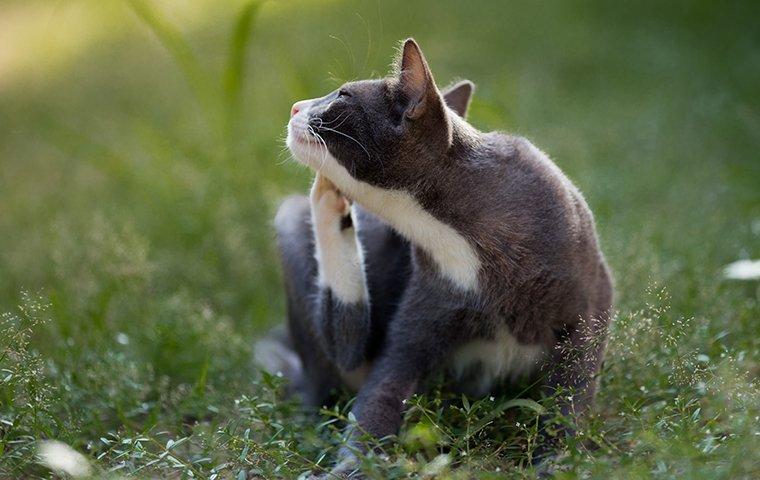 Housepets are among the most common carriers of fleas, and the fleas typically remain in the fur of the animal most of the time. This means that directly treating dogs and cats is a critical step in eliminating them. Fleas will expel feces that resembles ground pepper dust and may lay dozens of eggs per day.

Fleas are considered a health risk that may carry bubonic plague, tularemia, and other dangerous conditions. Some people with allergies may experience adverse reactions such as itchy dermatitis after exposure to fleas. Pets that experience very severe infestations also could become anemic.
The Common Sources Of Fleas
Wild animals are among the most common carriers of fleas. There is a misconception that only homes with pets are susceptible to flea invasions; however, fleas often attach themselves to footwear or the clothing of people walking through exterior areas of high grass. Once indoors, these pests begin laying eggs that often rest in carpeting or upholstered furniture.
Tips For Preventing Fleas
Our experts have some suggestions that will help you avoid a flea problem:
Keep the grass, weeds, and other vegetation in the yard trimmed.

Remove bird feeders, birdbaths, fallen fruit, and other items likely to attract wildlife to the yard area.

Pets must be under the care of a veterinarian's preventative treatment plan.

Regularly wash pet beds and vacuum carpeting, and upholstered furniture, which might contain eggs.

Always treat pre-owned furniture or rugs before bringing them indoors.
When To Call A Pest Control Professional
Far too many property owners decide to try do-it-yourself home treatment methods sold by online retailers and local shops. Many of these sprays, concentrated formulas, and traps are marketed using sensationalized claims of effectiveness. Unfortunately, many of these options merely generate very mediocre results that prolong the pest-related problem and create further aggravation.

The best way to respond to these types of concerns is to promptly consult with a seasoned pest control professional with the knowledge and equipment to get the job done the first time. A licensed specialist will thoroughly inspect the property's interior and exterior areas to identify the types of pest(s) involved. They will determine the extent of the intrusion and propose a highly effective treatment plan.

During the inspection process, the expert often notices additional existing property conditions that make the structure vulnerable to subsequent invasions from these or other types of pests. A qualified professional will also confidently stand behind the quality of their work that will ensure satisfaction.
Licensed Provider Of Pest Control Services In Montgomery
Did you know that the team of professionals with Bill Clark Pest Control has been solving pest-related problems for home and business owners in this region for decades? This lengthy track record of success is attributed to a commitment to customer service that meets or exceeds the industry standards. Our quality customer service is also demonstrated by the hundreds of new customer referrals that we have received from current and past clients.

In addition to fleas, the technicians with Bill Clark Pest Control have undergone excellent initial and ongoing training for ousting ants, mosquitoes, bed bugs, and a host of other unwanted pests that create frustration and may pose health risks. We are proud to assist others in the local community. Contact us today to schedule a no-obligation inspection.
< Previous
Next >