October 21, 2020
Why Do I Have Carpet Beetles In My Montgomery Home?
People don't often think about the damage a few little bugs can do to their property until the signs are apparent. By then, the problem has likely grown for weeks or months. This is even more frustrating when pests, like carpet beetles, destroy priceless heirlooms and nice fabrics. Learning how you can spot the early signs of an infestation, and how to act quickly, may just save you from these headaches.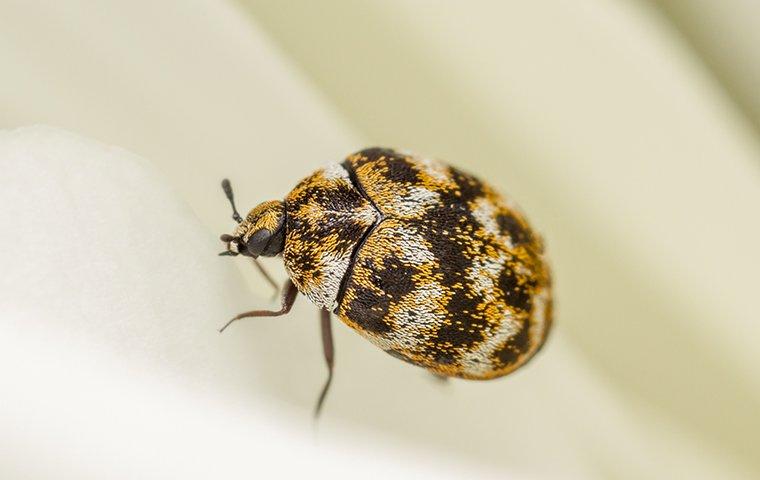 What Are Carpet Beetles?
Carpet beetles are small insects that are known for the damage they cause. Carpet beetles feed on keratin, a fibrous food found in animal hair, and some blended fabrics. They can infest a wide variety of areas in a home, causing damage to a swath of different household items. They look quite different depending on what stage of development they are in. Here's what to look for:
Eggs: Carpet beetle eggs are milky, yellow, or off-white sacs that aren't usually seen with the naked eye. They are tiny, but they are also usually well-hidden in folds or the undersides of materials that will provide ample food.
Larvae: It's the hungry and growing larvae that actually cause the damage, not the adults. Unlike adult beetles, these guys don't have developed wings and their hairy pupa-like bodies easily cling to hair and fibers.
Adults: Fully mature carpet beetles are small, usually only a couple millimeters in diameter. Their round, hard-shelled bodies are gray and brown speckled. They can both crawl and fly.
The Damage Caused By Carpet Beetles
While some people know that a carpet beetle infestation can be a big problem, most don't realize that it's the carpet beetle offspring, their hungry larvae, that actually do the damage to household materials. Adult carpet beetles feed on pollen and are just as likely to be seen outside as indoors. Their eggs and ravenous larvae, however, are placed by adult bugs near (or on) a food source so as to be a short crawl away. They are good at hiding in the shadows and waiting in out-of-reach folds until it's time to feed. Carpet beetle larvae can chew through carpeting, furniture, bedding, curtains, and even garments or clothing items. Improper action can worsen the problem as a small population quickly grows into a large invasion.
Household Carpet Beetle Prevention
The best way to avoid the damage caused by pests is to prevent their populations from moving indoors in the first place. Here's how you can do that with carpet beetles:
Crack sealing: Small bugs can fit through impossibly small cracks or holes in walls and floors. Regularly checking the exterior of your home and making repairs where they're needed, can help reduce entry points.
Windows & doors: Carpet beetles can fly, meaning they can easily be swept inside when a door or window opens and closes. Not only should you install proper screens and door sweeps, but you also need to regularly check and maintain them.
Inspections & treatments: Rather than sweat all this stuff on your own, trust local experts to do the dirty work with peace-of-mind inspections and preventative treatments.
Turn To The Experts For More Advice
With carpet beetles, you really don't want to take a chance on the damage they can lead to. Not only can they cause irreparable harm to some household items, but they can also damage irreplaceable heirlooms and antiques. Rather than risk an infestation, take advantage of local professionals who can truly protect you and your property. At Bill Clark Pest Control, our technicians can start right away on an inspection of your home, determining your level of risk and applying the right methods to your situation.
Don't let carpet beetles chew their way through your house, contact Bill Clark Pest Control today.
< Previous
Next >