April 30, 2019
When Are Carpenter Bees in Season in Southeast Texas?
Everything is bigger in Texas, this is just a fact of life. Sometimes this is a good thing, like when you are settling down and the King Supreme Burger you ordered more than fully stands up to its name. Other times, bigger is not better. One thing that is bigger here in Texas is our carpenter bee population. Because of our year-round warm weather, carpenter bees do not die off here in the winter. This does not, however, mean that they do not have a season. Here are some things you should know about carpenter bees.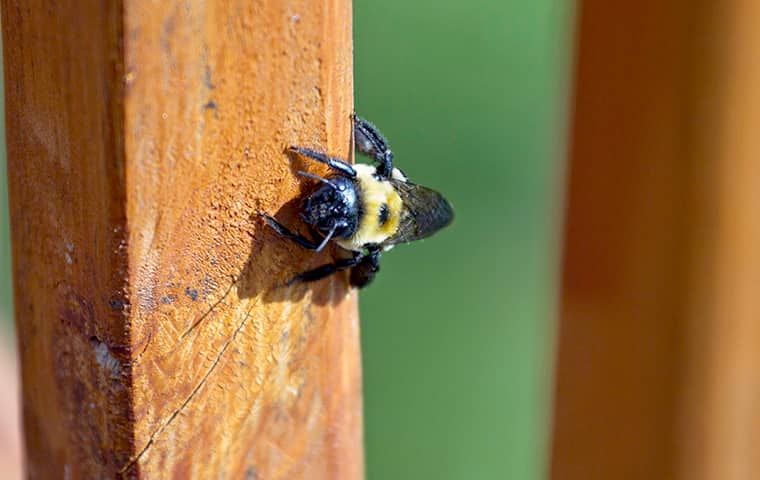 When is carpenter bee season and what is it?
Although carpenter bees can survive year-round in Texas, they still follow a pattern of a yearly breeding cycle. Most commonly this breeding cycle starts in April. This is when you can expect carpenter bee activity to begin rising. Another thing we should mention is that, as the temperature increases, so will carpenter bee population and activity. This means the further into summer we go, the more you can expect these wood-destroying pests to be out and about, potentially threatening your home.
What are carpenter bees and what kind of destruction can they cause?
When we think of bees, most people think of beehives, honey, and flowers. This makes it hard to imagine bees destroying wood. But this is what carpenter bees are known for doing. In almost every way a carpenter bee resembles a bumble bee. There is only one major detail that sets them apart, their hairless, shiny, black abdomens. The good news is that male carpenter bees are unable to sting you, making them less of a physical threat to you.
Speaking of structural threats, what really sets carpenter bees apart from other bees is the fact that they make their homes inside of wood, hence their name. This is where the trouble they cause starts. If carpenter bees decide to claim your home's wood as their own, you may find holes where you do not want them. Given enough time and enough bees, your home's wood may reach the point where it cannot be easily repaired. This is a fate we do not want for any homeowner.
Why call Bill Clark Bugsperts if you've seen carpenter bees around your home
If carpenter bees invade, what is your plan of action? If you don't have one, consider this. If carpenter bees invade your home, the first thing you should do is pick up the phone. Next, dial the number for Bill Clark Bugsperts. We will schedule a time ASAP to come out and fully treat your home and property for these destructive pests. Quick and easy, and in the least invasive way as possible. It's our guaranty. If that sounds good to you, give us a call. One of our experts will be happy to find a solution for you today.
< Previous
Next >