March 10, 2020
What You Ought To Know About Carpet Beetles In Beaumont
Carpet beetles are often overlooked when they get inside. There are a lot of beetles in the world, and most of them don't damage your property. But this is one beetle you don't want to mistake for a harmless beetle. Today, we're discussing the three most important things you need to know about carpet beetles in Beaumont, starting with how to identify them.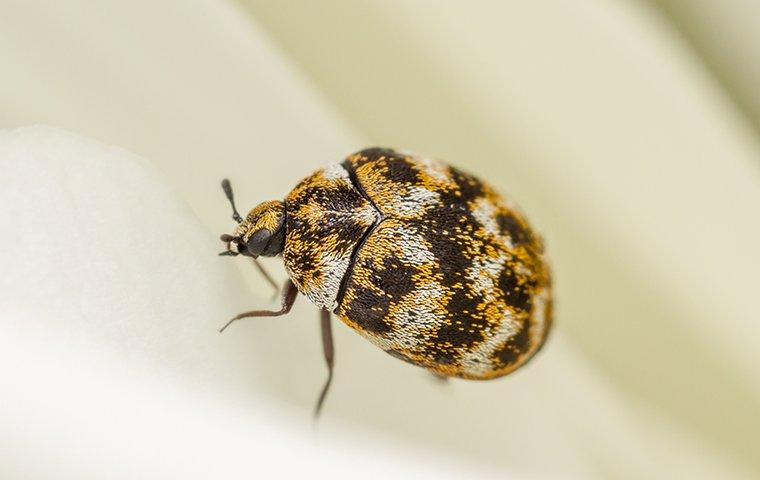 Identification
We have four species of carpet beetles to watch out for in Beaumont. Each is slightly different from the others in appearance.
Black carpet beetles — You can probably guess that these beetles are black. Some are all black and some have tan in the middle. Of the four carpet beetles you'll see in your home, this is the only one that will be a pill shape.
Furniture carpet beetles — These are oval beetles with a mottled mix of black, tan, white, brown, and yellow.
Varied carpet beetles — These are also oval beetles with a mottled mix of black, tan, white, brown, and yellow. You don't need to know the difference between varied carpet beetles and furniture carpet beetles. They both present the same threat.
Common carpet beetles — These beetles are black and white with a fiery orange coloration running down the center. Some species are a dull yellowish color down the center.
What's Eating Your Stuff?
There is a misconception that carpet beetles feed on your belongings. This is not true. Carpet beetles eat nectar. They don't feed on fabrics, textiles, and carpets. If you remove them from your home, you're only removing the warning sign that your belongings are being damaged. The real threat is the larvae of carpet beetles, which aren't beetles at all. They're caterpillars.
What Do Carpet Beetle Caterpillars Look Like?
If you find caterpillars inside your home, attached to clothing, drapes, carpets, wool blankets, or some other objects, you don't really need a detailed description. The appearance of carpet beetles, and finding caterpillars in your home is clear indication that you have a carpet beetle infestation.
What To Do About Carpet Beetles In Beaumont
Okay. You have a carpet beetle infestation. Now what? You might think the next step is DIY carpet beetle control. While you can try to deal with these beetles on your own, the better solution is to seek the aid of a licensed and experienced pest control professional. These tiny caterpillars are difficult to detect, and they live 60 days to a year in the larval stage. If your DIY pest control fails, the pests can continue to damage your belongings. You may also begin to wake up with bumpy rashes that look like bug bites. The hairs on the bottom of carpet beetle caterpillars can cause you to have an allergic reaction when they come in contact with your skin. Some people mistake carpet beetles for bed bugs because of this.
Do you live in Beaumont, Texas, or the surrounding area? If so, the bugsperts at Bill Clark Pest Control can help you eliminate carpet beetles and their larvae from your home. Our licensed and trained pest professionals use EPA approved products and industry-leading methods to arrest carpet beetle infestations. We'll help you get rid of the bugs, and we can also guide you in a long-term solution that will prevent destructive pests from damaging your belongings and your home. There are many destructive pests in Beaumont, and pests that can bite, sting, and spread diseases. Get protected today, with a little help from the friendly professionals here at Bill Clark Pest Control.
< Previous
Next >