June 10, 2019
How To Protect Your Pets From Fleas This Summer
There are a lot of things we do to keep our pets safe. We bring them to the vet if they are sick or injured. We try to train them to not do things like jumping up on the hot stove or running in front of a car. We even make them wear silly cones so they don't scratch themselves when they have injuries. Whatever we can do to stop them from getting injured, we do. Another way that we can accomplish this is by investing in proper flea prevention!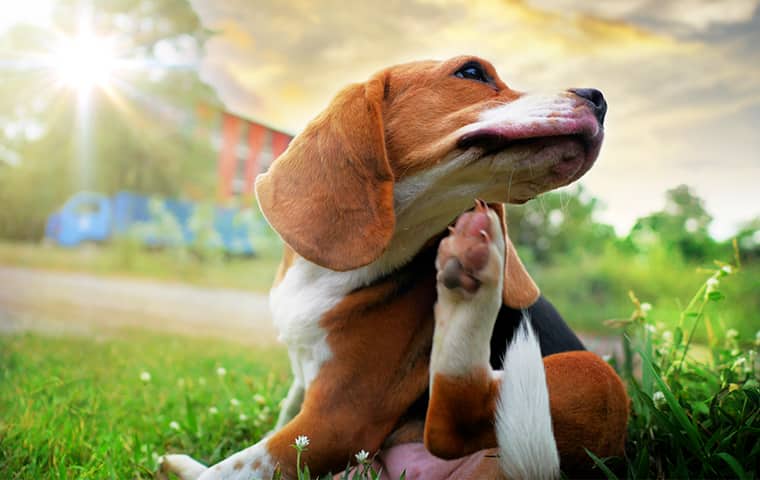 Factors That Lead To Flea Problems In Southeast Texas
The first thing you should know about fleas is that they are co-dependent creatures, meaning they require a host to survive. This is most commonly a warm-blooded animal. If you see a flea somewhere that is nowhere near an animal, you can be sure they are looking for the next one to hop on and get the meal they've been waiting for.
In the wild, fleas are transmitted when animals come in close contact with one another. In society, fleas spread when infected pets are brought into areas where other pets reside such as dog parks, vet offices, and pet stores. For instance, if you take your dog Bruno to the pet groomers to get a trim and the previous dog to get a trim had fleas, they may have left some behind. This could lead to Bruno bringing home some unwanted guests. The crazy part is that even if that infected dog before Bruno came to get his cut two months prior, there is still the possibility that fleas could be lurking around nearby as they can survive without having a blood meal for upwards of 100 days.
Steps Pet Owners Should Take To Protect Their Pets
Before we go any further, we are not pet experts, we are pest experts. We do not claim to know the best way to take care of your pets. This is why we highly recommend consulting with your pet's veterinarian about the best ways to keep them flea-free. They will help you find the best option to protect your furry friends from not only fleas, but ticks as well.
Why Profesional Flea Treatment Is Worth It
Remember how we talked about fleas living for 100 days without a meal? They can do this in your home as well! This can lead to some fairly nasty infestations. Do you also remember when we said we were pest experts? If fleas have invaded your home and are causing you stress and frustration, we'd like to offer our assistance. For information on what our assistance looks like or to schedule an inspection for fleas, contact the Bugsperts at Bill Clark Pest Control today. Our team is standing by and ready to help!
< Previous
Next >