June 9, 2021
How To Get Rid Of Springtails On Your Beaumont Property?
Here in Beaumont, there's no shortage of pests that could invade our homes. Some of the more common home-invading pests in the area include spiders, ants, and rodents. There are also some lesser-known pests that you might come across in your Beaumont home, too. Just because these pests aren't as well known, that doesn't mean they can't be problematic. One such pest is the springtail. Springtails are home-invading pests that, unlike many other pests, can invade at all times of the year. As such, you always need to be ready for these insects. That means knowing the steps you can take to better protect your home from them, as well as knowing what to do should your home become infested.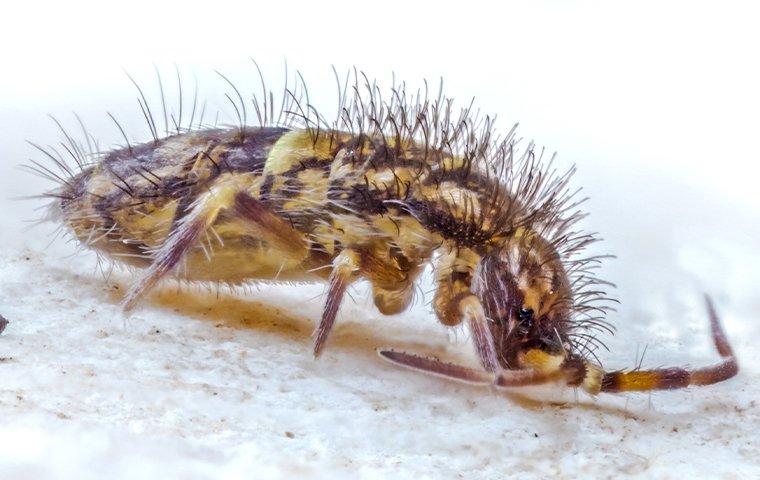 What Are Springtails?
Springtails are small insects that are sometimes referred to as snow fleas. The reason for this is because they are able to survive throughout the winter, and they jump in a similar fashion to fleas. However, despite this nickname, springtails are not related to fleas.
Springtails love moisture and feed on decaying organic plant matter. As such, they can frequently be found around flowerbeds and gardens. However, they will come inside if the weather becomes too dry for them to survive outside. Once inside, they tend to seek out cool and damp areas. This includes any areas with leaks or standing water.
Are Springtails Dangerous?
Despite being referred to as snow fleas, springtails do not feed on blood as fleas do. Nor do they pose any other threats to us, our pets, or our homes. Springtails are largely considered to be nuisance pests. However, just because they don't pose any direct threat to us or our homes, that doesn't mean springtails don't come without their drawbacks. Springtails can invade in large numbers. Furthermore, they can be incredibly hard to get rid of once they have made their way inside of your home. And, you simply don't want bugs living in your Beaumont house. Overall, there are plenty of reasons you don't want springtails invading your property.
How To Prevent Springtails From Infesting Your Home?
Given their love for damp areas, the best method for keeping springtails out of your Beaumont home is by reducing any areas with excess moisture or flooding. You can also seal off potential entry points through which springtails might get into your home. To achieve these goals, you need to:
Install dehumidifiers to remove any moisture buildup in your home, especially in areas that are poorly ventilated.
Fix any leaky pipes or fixtures.
Make sure all drains are working properly.
Keep flowerbeds and gardens away from the exterior of your home.
Seal any cracks in the foundation of your home.
Install door sweeps and weather-stripping around windows and exterior doors.
The Most Effective Way To Get Rid Of Springtails
Unfortunately, even with the proper preventative measures, you could still find yourself dealing with a springtail infestation in your Beaumont home. If such is the case, don't hesitate to contact the professionals here at Bill Clark Pest Control right away for assistance. Not only will we effectively eliminate any springtail infestation around your Beaumont property, but should you enroll in one of our ongoing pest service plans, we will make sure your home remains pest-free all year long.
They may only be nuisances, but just because they aren't dangerous, that doesn't mean you want springtails living in your home. Give Bill Clark Pest Control a call today and get started with an effective pest treatment plan that works for you and your Beaumont property.
< Previous
Next >