September 3, 2021
How To Get Rid Of Carpet Beetles In Your Beaumont Home
Beaumont is in South Texas along the Texas/Louisiana border; and close to the Gulf of Mexico. People like Babe Zaharias (Olympic medalist), Jerry Ball (professional football player), and Jimmy Jones (NFL coach) all hail from this part of the country. One not-so-famous resident of the area is the carpet beetle. They add a little something to the community, but nobody wants them included in the Beaumont Hall of Fame.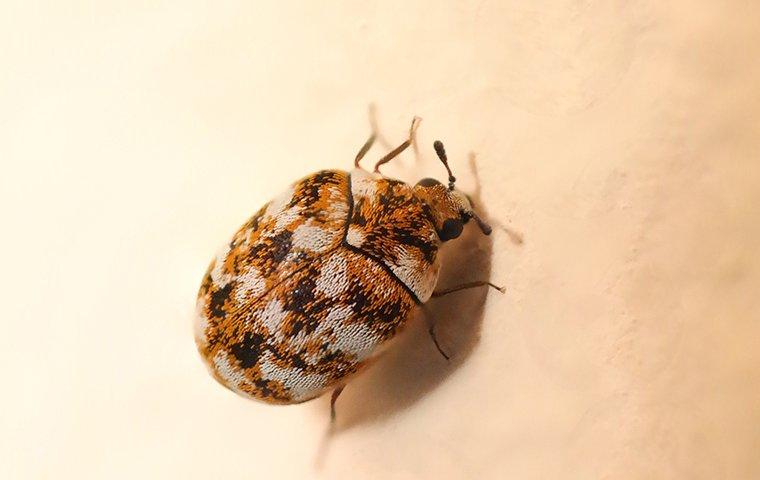 The Secret To Identifying Beaumont Carpet Beetles
Carpet beetles are insects that can cause a great deal of damage to your home. There are multiple varieties of carpet beetle in the Beaumont area.
Four of the most common carpet beetle species include:
Common Carpet Beetles: These beetles are oval and pretty much all black with distinct scale patterns. Their chests have white scales except for a large midline. The elytra (wings) can have orange to red scales down the midline with some patches of white scales. Adults are around 2.5 to 3.8 mm in length.
Furniture Carpet Beetles: These oval-shaped beetles are black with a yellow/white mottling of scales on the back and thick yellow scales on the legs. Their scales are different from the carpet beetle in that they are round or oval. Adults are around 2 to 3.5 mm in length.
Varied Carpet Beetles: Similar to furniture carpet beetles, these beetles also have a black body with mottled colors. Adults are around 3 to 5 mm in length.
Black Carpet Beetles: Shiny black and dark brown with brownish legs these oval-shaped beetles grow to be around 3 to 5 mm in length.
Carpet beetles have some commonalities with other pests in the Beaumont area. Insects often confused with carpet beetles include clothes moths which create similar damage to property and bed bugs that can cause a bumpy rash.
Little Known Facts About Beaumont Carpet Beetles
Adult beetles are most at home outdoors; they enjoy vegetation in nearby gardens. While they love their nectar, their main job is to lay eggs for the next generation.
Adults lay eggs on the following:
Wool carpets
Furs
Hides
Horns
Feathers
Hair
Silk
Cereals
Stored grains
Fabrics
To get access to lay these eggs, adults can enter homes through open windows, doors, cut flowers, or stored furniture. After the carpet beetles have laid their eggs, it is the larvae they produce that destroy property. Upon hatching, they will travel from room to room and feed.
Areas around the house they can infest are as follows:
Behind baseboards
Behind molding
In heating ducts
In furniture
In carpets
It can be helpful to check these areas on a regular basis for growing infestations.
How Do You Get Rid Of Carpet Beetles?
Carpet beetles are a bugger to get out of a home. They find food in weird places and spread out all over your home. Because the adults lay the eggs and the larvae cause the damage, trying to eradicate multiple life stages can be problematic. Another issue is recognizing you have a problem. By the time you positively identify a carpet beetle infestation, it will most likely be wildly out of control.
What Everybody Ought To Know About Bill Clark Pest Control
The easiest and most effective way to handle a carpet beetle infestation is with professional assistance from Bill Clark Pest Control. We have licensed and trained pest professionals that will use EPA-approved products combined with industry-leading methods to eradicate carpet beetle infestations. Call Bill Clark Pest Control today to receive a no-obligation inspection.
< Previous
Next >