April 21, 2020
Conroe's Complete Spring Pest Prevention Guide
Pests love the year-round mild temperatures in our area. As flowers begin to bloom and weather takes a turn for the better these pests will be gearing up with greater activity. The National Pest Management Association is encouraging homeowners to incorporate pest-proofing as a part of spring cleaning and yard clean up routines each year. Take advantage of the following spring cleaning techniques to prevent invaders from taking refuge in and around your home this season.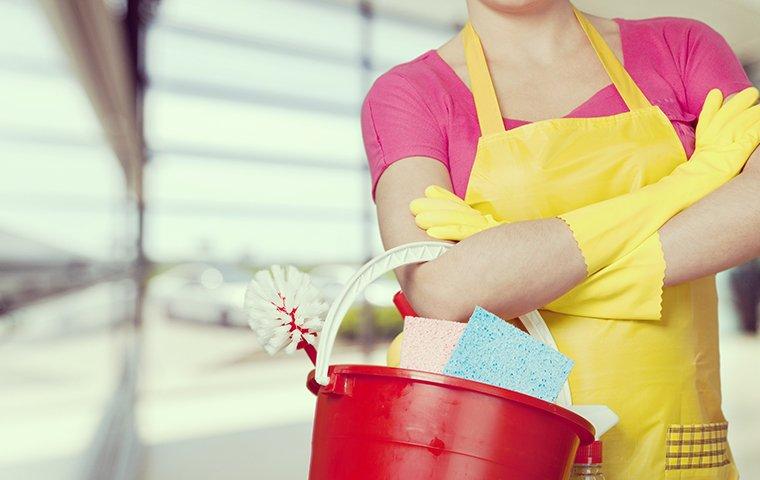 Spring Cleaning For Pests
We all know the rules about keeping garbage cans sealed, cleaning up spills and regularly vacuuming. Yet, we often forget to take stock and dig a little deeper. In order to keep your home free of pests this spring, make sure to clean those often forgotten places. Take the time to remove items from your cabinets and pantry. Outdated baking items can attract beetles, moths and ants. Make sure to discard any unnecessary items. Wipe down the inside of cabinets (don't forget medicine cabinets) and install fresh shelf paper. While you're in the kitchen pull out the appliances and vacuum in and behind them.
Many pests are attracted to sources of moisture in our homes. Eliminate this draw by checking for excess moisture from leaky pipes and/or faucets. While you're at it check for any newly developed cracks or crevices and seal them using silicone based caulking. Mice can fit through an opening the size of a small coin and many insects need only a paper-thin crack to gain entry.
If your spring cleaning routine includes reducing clutter that's a good thing! Many pests like rodents and spiders take refuge in dark corners and clutter areas. This happens especially in basements and other storage areas. Eliminating hiding spots and using plastic bins with secure lids instead of cardboard boxes is an important step in pest prevention.
Spring is also a good time to check in with your veterinarian about preventative treatment for dogs and cats. This can help in avoiding the introduction of fleas and ticks into your home.
Outdoor Considerations
When planning your spring pest prevention clean up don't forget to look outside your home. Make sure to check for any damage that was done over the winter months. Repair fascia and rotted roof shingles as many insects will be drawn to the deteriorating wood. Repair ripped screens and replace weather-stripping as needed. Fix loose mortar around the foundation and windows.
Remember that water is a significant attraction for many pests. Clean out clogged gutters and downspouts to make sure that water has an easy exit from your property before rain sets in.
When tackling landscaping projects make sure to trim bushes and branches away from the house so the are not creating entryways for unwanted summer guests. Remove rotted tree stumps and other debris and keep mulch at least 15 inches away from the foundation of your home to avoid attracting termites.
Bill Clark's Pest Control Can Help
Once pests have found their way into the comfort of your home they can be a real challenge to move out. The result can range from property damage to health threats. If you need advice or assistance in getting or keeping your home free of pests call the professionals at Bill Clark's Pest Control. We are the area's largest provider of dependable pest control and have been helping homeowners since 1957. Our licensed managers and technicians are ready to evaluate the extent of your pest control problem and recommend treatment options. We protect what matters most: people, property and pets, by providing unparalleled service at a fair price.
< Previous
Next >