January 12, 2021
A Step-By-Step Guide To Protecting Your Beaumont Home From Termites
Beaumont homeowners have a lot of things to keep track of, and pest management can easily get lost in the shuffle. People are especially inclined to put it on the bottom of their to-do lists if they don't see any insects or creatures wandering around. The fact is, many pests can quietly penetrate your property and hide for a long period, all while wreaking havoc. The consequences can be even greater with an invader that multiplies seemingly at the speed of light. Termites definitely go undetected and populate quickly while they conceal themselves behind walls.
Most people won't know they have a termite issue until things have turned dire. Your home may become so unstable and require so much repair that you may not be able to live in it for a time. As if that isn't bad enough, you could go bankrupt trying to rebound. Every year, Americans spend more than five billion dollars in termite-related costs, and insurance companies often have provisions against assistance with these expenditures. Learn how to prevent these outcomes with Bill Clark Pest Control.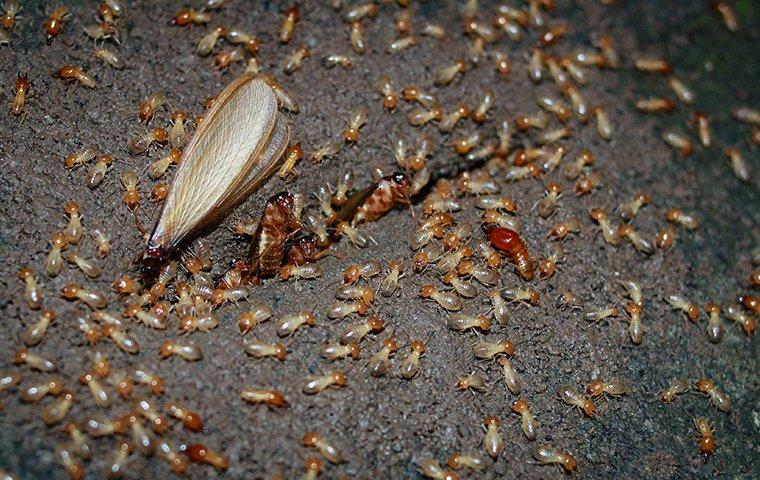 What Are The Signs of Termite Infestation?
Workers, soldiers, and swarmers make up termite colonies. Workers are around 1/8 inch long, with white or grayish-white bodies, and they create most of the damage. The yellow-brown soldiers shield them with their pronounced jaws and rectangular heads. Swarmers are about ½ inch long and have yellow, black, or brown figures. Their wings help them leave the nest to procreate and forge new colonies. Spotting them is a tell-tale indication of an infestation: in the spring mating season, you'll see them coming from exit holes and surrounding lights. Additional signs include:
Finding the discarded translucent and scaly wings of swarmers
Noticing piles of frass (powdery wood) close to needlepoint holes, mud tubes, and maze patterns in walls
Hearing hollowness when you tap on wood
Hearing rustling or clicking noises behind walls
Observing that paint is starting to peel, bubble, and look water-damaged
Having droopy or off-color drywall
Having flimsy tiles or floorboards that are giving way
Abruptly tight-fitting window frames and doors
How Can Termites Be Prevented?
It cannot be emphasized enough that termites are tremendously destructive. You shouldn't wait for an issue to come up, and you can't procrastinate or be nonchalant about prevention, either. Deterrence methods are more than necessary and essential. It might seem daunting to constantly be watchful, but it is well worth the effort, as you'll be preserving your home and bank account. Primary preventive actions involve building and lawn care:
Locate any decaying, injured, or water-spoiled wood and remove it or have it refurbished.
Schedule or perform repairs for leaks and moisture malfunctions. Anything causing wood to be damp should take precedence.
Look for cracks and crevices around foundations, caulked spots, and utility lines. Seal them up immediately.
All exterior vents should have screens attached.
Your gutters and vents need to be cleaned on a regular basis.
If you have loose wood, such as fire logs and lumber, store it away from the property.
Routinely groom greenery, and distance it from doors that face the outside.
Keep free wood off of soil.
What Can Bill Clark Pest Control Do About Termites?
As you might imagine, termites require an expert hand, and that's what you'll get with us at Bill Clark Pest Control. Our licensed technicians will utilize professional-grade termite treatments like the Sentricon® Termite Colony Elimination System and liquid Termidor®. These safe products will eliminate current colonies and block future ones from forming, and our services are guaranteed. Pre-treatments with Sentricon® and Termimesh for fresh construction are also available. Call us today for a no-obligation inspection!
< Previous
Next >