August 25, 2021
Montgomery's Ultimate American Cockroach Control Guide
Montgomery, Texas, is a small town that has a suburban, rural mix. Some say it is the best place to live in Texas. With hot, humid summers and mild to cool winters, it has a most inviting climate for residents and visitors alike. Something else that likes these weather conditions is the American cockroach. With such an inviting town, American cockroaches may just decide to come for a visit.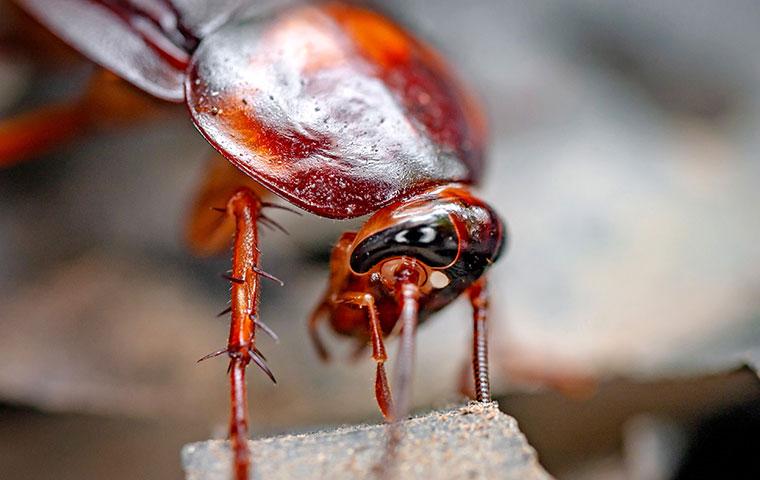 Ways To Tell If You Have An American Cockroach Infestation
American cockroaches can average around an inch and a half in length. They can get as large as two inches. Both females and males can fly for short distances. They have flat bodies and heads with a reddish-brown color and a yellowish figure 8 on the back. However, having an American cockroach infestation is no guarantee of actually seeing one of these elusive pests. Other signs of cockroach infestation property owners need to be on the lookout for include:
Fast-moving insects fleeing to dark areas
Droppings left in dim areas (blunt on the ends with ridges on the sides – sometimes mistaken for mice droppings)
8mm long egg capsules glued to surfaces in basements, laundry rooms, behind appliances, and near food
A "musty" odor produced by cockroach pheromones
Little-Known Ways American Cockroaches Spread Disease In Montgomery
When you think about where cockroaches roam, you'll understand why they spread disease. American cockroaches, in particular, like to live in sewer systems. They pick up germs on the spines of their legs as they crawl through decaying matter or sewage. All these nasty germs on their bodies can get transferred to surfaces in and around your property. Urine, saliva, and fecal droppings are also a cause for concern because they can result in allergy and asthmatic issues. Cockroaches spread over 33 different types of bacteria including E. Coli, and salmonella, human pathogens, and parasitic worms.
What Attracts American Cockroaches To Montgomery Properties?
With significant changes in climate and a shortage of food and water, the American cockroach will seek shelter and sustenance. American cockroaches are extremely common in larger commercial buildings like restaurants, bakeries, grocery stores, food processing plants, and hospitals because they usually have great food storage and food preparation areas. Do not think your property is exempt from an American cockroach infestation! Cockroaches can enter your property through the garage, underneath doors, or through basement windows.
Areas both inside and outside where American cockroaches can get comfy are as follows:
Inside
Laundry rooms
Basements
Kitchens
Bathrooms
Outside
Areas with fungi
Areas with decaying leaves
Areas with algae
Areas with an abundance of insects
There are things property owners can do to try to reduce or eliminate a cockroach infestation. Helpful steps to address the risk of a cockroach infestation include:
Keep the inside of your building clean and sanitized.
Create barriers to keep cockroaches out. Repair small cracks in walls, seal gaps in switch plates, electric boxes, and around drains with silicone-based caulk.
Do not leave pet food out.
Ventilate crawl spaces.
Run water in spare bathrooms to keep u-traps filled.
Trim bushes and shrubs and keep them away from buildings.
Use gravel barriers or use a shallow layer of mulch.
Keep leaf litter, firewood, lumber, and other debris away from buildings.
The Secret To American Cockroach Removal In Montgomery
Getting rid of cockroaches is a challenge best left to the professionals at Bill Clark Pest Control. When a cockroach can lose its head and still survive for a week, you know they are going to be hard to remove. Call Bill Clark Pest Control today and let us help PROTECT what matters most – people, property, and pets.
< Previous
Next >