December 27, 2021
Are Centipedes Dangerous In Conroe?
Creepiest of all the crawlies found in Conroe, the centipede is one of the most disturbing pests that makes its way into Conroe homes.
These pests are easy to identify, sporting dozens of pairs of legs (rarely precisely 100), two long antennae, greyish exoskeletons, and thin, linear bodies. The three black stripes that run down the length of their bodies can be spotted even at longer distances, helping home and business owners make educated guesses about the pests creeping into their homes.
Are centipedes that dangerous around homes and businesses, or do these pests have a bad rap? Let's learn more about the threats, attractants, and treatments of the Conroe House Centipede.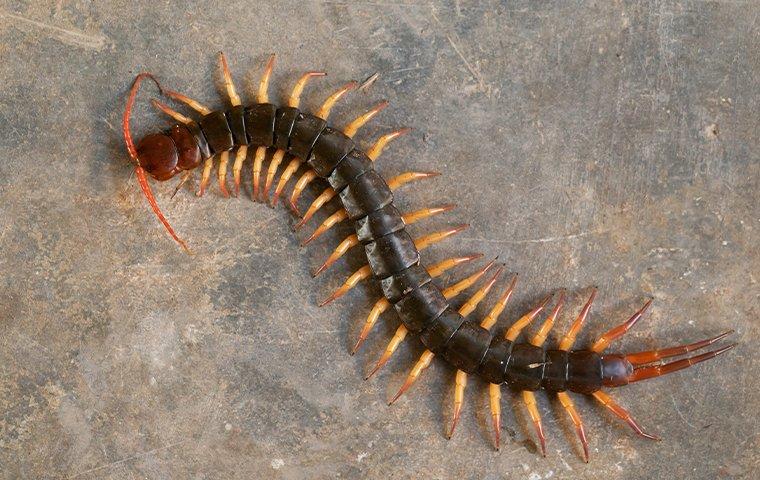 The Threats Posed By Conroe Centipedes
Although centipedes are both carnivorous and venomous creatures, these bugs pose no real threat to either people or pets. Centipedes can certainly bite, however, and are known for leaving painful marks on those who would try to handle them. However, these rarely last more than a few days and usually heal quickly.
The real threat of a centipede infestation is the implication of secondary infestation. Centipedes move indoors to eat their fill if another species of pest is living around your home.
All The Factors That Attract Centipedes Into Your Home
Like many other living creatures, centipedes are attracted to homes based on a set of factors. All animals need food, water, and shelter to survive and will only enter your home if they believe it can meet their needs. Because centipedes are attracted to moisture or humidity, a dark or moist home could be the most significant attractant factor. Clutter, cardboard boxes, and other elements may serve as an encouragement to pests, as well as disused or less-trafficked locations.
Below are some helpful ways to reduce centipede attractant factors around your Conroe property:
Reduce interior humidity using a dehumidifier or desiccant bags in smaller areas.
Repair drains and pipes with do-it-yourself (DIY) measures, and defer to professional control if all else fails.
Find ways to eliminate clutter and various food sources. Store boxes and other items high off the ground. Remove items from the floor as often as possible.
If you are still concerned that there are centipede attractant factors around your home, you may need to move the fight outdoors:
Mow your grass frequently, taking care to eliminate excess moisture.
Trim trees or shrubs that are growing near the sides of the home.
Refer to a group of professionals for long-term centipede control.
For more advice or assistance in getting rid of a centipede problem, reach out to the knowledgeable 'bugsperts' at Bill Clark Pest Control.
Bill Clark Pest Control Stops Centipedes In A Snap
Since 1957, the Bill Clark Pest Control team has been protecting homes and business owners from the dangers of rampant pest activity. Unlike many of our competitors, we genuinely care for Conroe locals by providing exceptional levels of pest protection that can be customized for any need. Instead of relying on cookie-cutter or siloed management plans, Bill Clark Pest Control adapts to Conroe properties and provides the necessary tools they need to recover well.
If prevention and mitigation are not enough, Bill Clark Pest Control may be able to help. Call, click, or visit our crew today to learn more about the home pest control services we provide. We'll help get you centipede free as soon as possible!
< Previous
Next >